11
art, music, etc.
/
Re: Post Musical Equipment Here....

Informative
on October 27, 2018, 12:55:58 PM to
Focalor
With cables, it almost doesn't matter which brand you buy anymore, MOST of them aren't terrific. They'll perform fine when they're new and if you baby them all the time. D'addario under the company name Planet Waves used to make some really really good cables back in the early 2000s. The connectors were sealed and molded with hard plastic to make it virtually IMPOSSIBLE to break the solder points inside. The ends were gold plated and had these cool spliced sides that would make the plug always stay firmly connected and noise-free even if the plug rotated in the jack a little.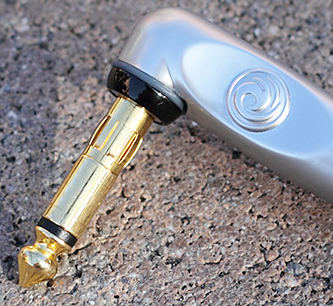 I dunno what specific model of cable that is pictured. Mine were all black plastic ends, not brushed metal like that. But that's the same basic sure-connect thing. I absolutely CANNOT find these anymore. And no one else makes anything similar. If you ever find any, get some. I swear to god, you can't break those things even INTENTIONALLY. I bought a 25 footer back in 2005ish for about 70 bucks I think. I slammed my guitar on the ground with the plug still in it and it bent the metal end of the plug to a 45 degree sticking out (did WAY worse to my Ibanez, some DEEP gashes in the tail of the guitar from that temper tantrum). IT STILL WORKS PERFECTLY FINE! I've tried locking it down in a bench vise and bending it back straight, but it won't budge even if I whack the fuck out of it with a 2 pound mallet. So I just use it as is. Still works just fine, lol.
Anyway, my advice on cables is to get something decent, but don't spend ridiculous rich-boy prices on shit like those fucking Mogami Gold cables that they ask about 80 bucks for. That's a stupid investment. Fender makes some decent ones with braided tweed shielding, I use one myself a lot. Had it for about 15 years with no problems. The thing to remember is to not let the straight cable end get bent in a 90 degree angle from the plug, like if you sit with the plug pressing against a sofa cushion or the floor or something. It'll stress that solder joint and break it.
I've used those Ernie Ball 9's myself for decades on my Ibanez. I tried using them on my Gibson Les Paul with a tune-o-matic bridge like yours. I've encountered problems with them though. The high 9 string always comes unwrapped from the ball end after the strings get settled in and I start trying to do bends on it. Had it happen to me about 5 times now, every set I've tried to put on there. I always end up having to put another 11 or 12 on there in its place to take the tension without unwrapping from the ball end, so then my strings go 11, 11, 16, 24, 32, 42. It sounds okay I guess, but personally I like a thinner springier sound from my lead playing and the ability to bend notes more than 1 step up. With an 11 on the top, it's really difficult to muscle the string and bend it past 2 full notes.
So if you're ever playing and notice that 6th string keeps tuning down and you have to keep twisting the peg to tune it back up correctly, the string is probably coming unwound from the ball end. If it'll work with those Ernie Ball 9's though, yeah, use those. They're dirt cheap and decent quality.