71
Politics
/
Re: National Security Admin - Data Collection

DO YOU EVEN LIFT?
on June 18, 2013, 02:07:38 AM by
Reptile
Thought this was an interesting perspective:
Excerpt from: Bruce Schneier: Trading Privacy for Convenience

The current surveillance state is a result of a government/corporate partnership, and our willingness to give up privacy for convenience.

If the government demanded that we all carry tracking devices 24/7, we would rebel. Yet we all carry cell phones. If the government demanded that we deposit copies of all of our messages to each other with the police, we'd declare their actions unconstitutional. Yet we all use Gmail and Facebook messaging and SMS. If the government demanded that we give them access to all the photographs we take, and that we identify all of the people in them and tag them with locations, we'd refuse. Yet we do exactly that on Flickr and other sites.

Ray Ozzie is right when he said that we got what we asked for when we told the government we were scared and that they should do whatever they wanted to make us feel safer. But we also got what we asked for when we traded our privacy for convenience, trusting these corporations to look out for our best interests.

And while I happen to mostly agree with Bruce Schneier's stance on
Government Secrets and the Need for Whistleblowers
, I think Thomas Friedman also makes a worthwhile point here:
Excerpt from: Thomas Friedman: Blowing a Whistle

[...] what I cherish most about America is our open society, and I believe that if there is one more 9/11 — or worse, an attack involving nuclear material — it could lead to the end of the open society as we know it. If there were another 9/11, I fear that 99 percent of Americans would tell their members of Congress: "Do whatever you need to do to, privacy be damned, just make sure this does not happen again." That is what I fear most.

That is why I'll reluctantly, very reluctantly, trade off the government using data mining to look for suspicious patterns in phone numbers called and e-mail addresses — and then have to go to a judge to get a warrant to actually look at the content under guidelines set by Congress — to prevent a day where, out of fear, we give government a license to look at anyone, any e-mail, any phone call, anywhere, anytime.

Which incidentally reminded me of a political cartoon I'd seen awhile back: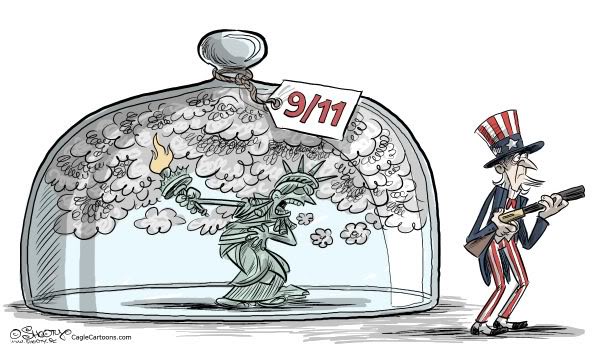 Of course, a key concern would be whether we have already passed the point where government has to "go to a judge to get a warrant to actually look at the content."
Statements made by Edward Snowden in a recent crowd-sourced interview seemed to imply the government is collecting the metadata at "widest allowable aperture", but that if they decide to focus on you specifically, it's trivial for them to
begin
collecting any particular data they wish:
http://www.guardian.co.uk/world/2013/jun/17/edward-snowden-nsa-files-whistleblower?commentpage=1
If they really are limiting their collection to "allowable metadata" until targeting someone, that would be a bit different than the government collecting and storing the full global firehose of data indiscriminately, and being able to reference it at any time.
Not sure where the truth really lies though...